The red brick storefront at 313 E. Sullivan Street in Kingsport, Tennessee, doesn't look much like a place of worship. But make no mistake: All kinds of church is happening inside this century-old, 5,000-square-foot building, the kind of ministry that spills out the doors and attracts others' attention as it makes its way across town.
Folks at Shades of Grace United Methodist Church are among those United Methodists globally who engage in a theology that has echoed through the decades in The United Methodist Church's rich tradition of mission. They welcome strangers, feed the hungry, clothe the poor, heal the sick and listen and befriend those people who find themselves on the margins.
"We're seeing with our Jesus eyes," says Dr. Joe Smiddy, a Shades of Grace UMC church member.
Start with small steps
"We are proceeding with the assumption that everyone can make a small step," Smiddy shares. "Whether it's substances, faith, mental illness or loneliness, we can take their arm and help them to take a small step. And those small steps can lead to larger steps."
Smiddy, now a retired physician, volunteers five days a week at Shades of Grace UMC, often connecting people with medical services, helping make and serve meals and finding homes and jobs for people who need them.
"I jump up, kick the sheets off every morning and say, 'Lord, what are we doing today?' Why would I go play golf? Why would I go fishing? Where else would I be but at Shades of Grace?" Smiddy asks enthusiastically.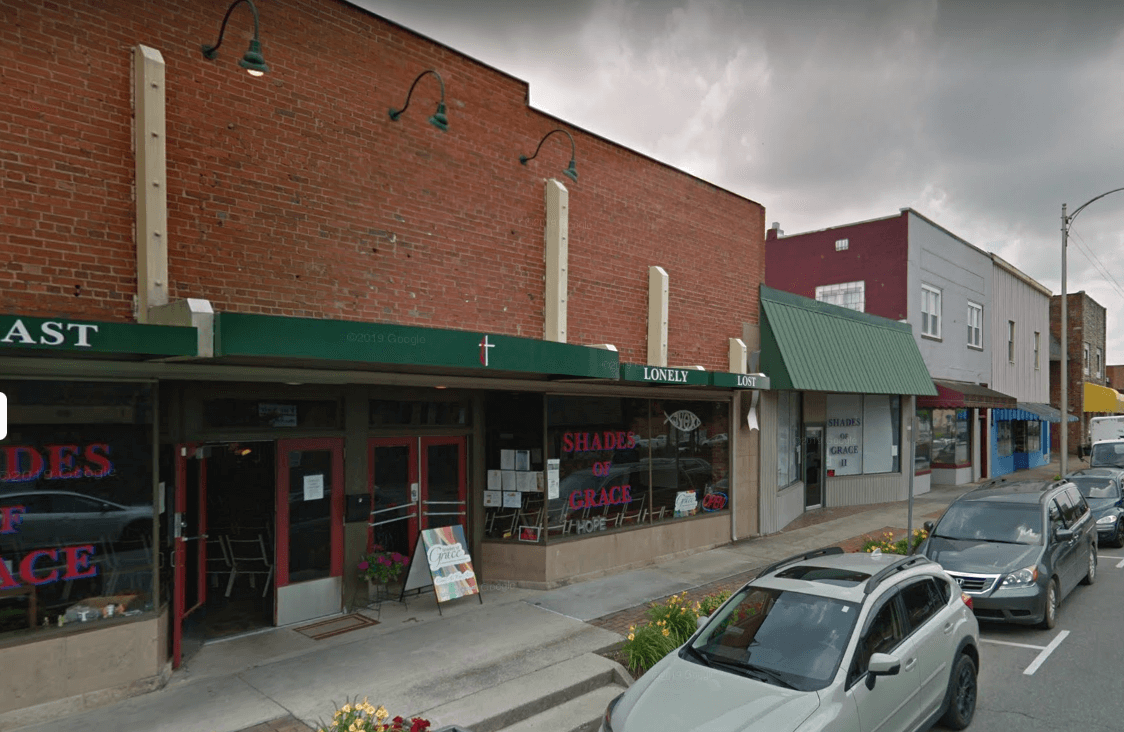 Shades of Grace UMC, located in an unassuming 100-year-old storefront in downtown Kingsport, Tenn., is a place where miracles occur daily, members say.
As Shades of Grace UMC, now in its ninth year as a church plant in the Holston Conference, has served its neighbors, others have joined in. The city's police department is a strong partner, picking up items to keep in their vehicles to share with those they might encounter. The City of Kingsport hired a licensed social worker, a liaison between the area's underserved population and the government and community resources who works closely with the church. And 65 regional churches partner with Shades of Grace UMC by providing funds, food and other items. One local church, Immanuel Lutheran Church, donated burial plots to bury people who don't have someone to bury them. To-date, Shades of Grace UMC's pastor, the Rev. Will Shewey, has performed more than 100 funerals for "the unclaimed."
Miracles abound
"Dumbfounded" is how Steve Wells, lay leader and founding church member, says he often feels when seeing how God works at Shades of Grace UMC.
"There are times when I'm in the kitchen making sandwiches using hot dog buns and I'll say, 'Lord, I wish we had a few loaves of bread' and somebody knocks on the door and comes in with six loaves of bread," he recounts.
"The miracles that happen – and they are miracles," Wells emphasizes. "When you pray for something and it happens and you see it...I truly see God at work."
Smiddy has his own miracle stories to share, like the time the ministry received three pairs of size 15 shoes.
"We don't often get calls for a size 15 pair of shoes," he explains. "And the next person who came through the door was looking for a size 15.
"Those kinds of things happen daily."
I realized you just have to accept people; we can't fix them. You have to show them God's love and it will change them as time goes on."
Although Wells regularly attends Shades of Grace UMC's worship services which Shewey leads weekly in person and online, Wells is unsure he could return to a more traditional church. What he's learned about his faith and himself at Shades of Grace UMC, he says, has impacted him significantly.
"I realized you just have to accept people; we can't fix them," Wells shares. "Most people have a negative impression of homeless people. Well, a lot of people are doing the best they can. You have to show them God's love and it will change them as time goes on."
Wells witnessed that transformation in someone who frequented the church before passing away, a man with mental illness who was known for being belligerent and often dirty. One day, the man came to the church and asked for a shower and clean clothes, Wells recalls.
"He was feeble so I was helping him," Wells recalls. "He just stopped and said, 'Steve, thank you for being kind to me.'
"I just melted right there," Wells shares.
The connection between physical and spiritual hunger
Addressing the most basic needs, such as shelter and hunger, must occur before making a spiritual connection, says Kiki Arrington White, who along with other Crenshaw United Methodist Church members, serves food to up to 1,000 neighbors weekly.
"We have a church building but the church is the people, so we want to show that we are there for them."
When White experienced a temporary job loss during the pandemic, she became not only a volunteer, but also someone who needed the church's ministry for herself.
"Receiving the food box encouraged me emotionally but it also helped me make it to the next paycheck," White shares. "Being able to help others is always a mood lifter for me, so knowing that I was able to serve was great. But knowing that I was able to participate as a recipient helped solidify my belief that God really does supply all your needs. And when my physical hunger is taken care of, I have room for spiritual food."
Crenshaw UMC's longtime outreach addresses food insecurity with a community garden, food boxes and a partnership with the American Heart Association for a produce giveaway. The difference, church members say, is not only a rich mission life for the church but a healthier and more caring community.
"The different ministries help us become part of the community," says Liz Porter, a Crenshaw UMC member who explains that the church is located in the Baldwin Hills area of Los Angeles, a diverse neighborhood experiencing gentrification where finding fresh produce can be difficult.
"We have a church building but the church is the people so we want to show that we are there for them," Liz Porter shares. "People need relationships and to feel like they are part of a community.
"I feel like serving others in this way helps me grow as a Christian," Porter explains. "Even when it's difficult, you have to come from a place of love and understanding and I want everyone to feel welcome, to feel respected."
"We are there to show genuine love whenever there is an opportunity," Porter believes. "We are an extension of Jesus Christ."
Crystal Caviness works for UMC.org at United Methodist Communications. Contact her by email.
This content was published August 26, 2022.